PACK
PRESS 100 
INNOVATIVE
SOLUTION
FOR COMPACTING
PACKAGING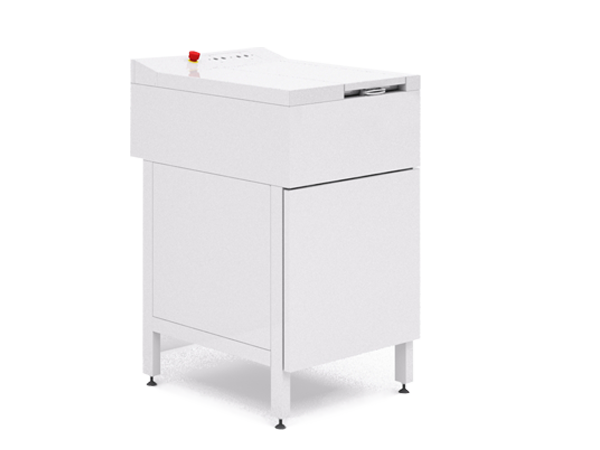 PackPRESS 100 – Effective compaction in your own kitchen
The PackPRESS 100 waste compacting machine provides prompt waste compaction directly at the place where it is produced, and thus reduces its volume. Put a cleaned tin can or plastic packaging into the machine and press start. The compacted waste will automatically fall into the basket below the machine. The machine is made of stainless steel and therefore suitable to be placed among other equipment of the professional kitchen. It will blend into your kitchen and become an essential part of your equipment.
Enabled waste separation for your household 
Individual waste compaction enables you to simply sort the compacted waste and thus contribute to a better environment. Packaging does not extend after it is compacted and thus the waste collection area is optimized. With this you will save your time for separation of your waste and space with full compaction of those. An easy solution to save time, space and our environment with correct separation of your waste.
| | |
| --- | --- |
| Subject | Description |
| Material - frame | stainless steel |
| Door opening | from the top |
| Pressing | horizontal, electric motor |
| Voltage/current | 230V, 50Hz, 10A |
| Dimensions | 500 x 850 x 600 (with a stand and a basket). |
Can we place the PackPRESS 100 in the kitchen?
Yes, the device is also intended to be used in a professional kitchen along with other equipment. Of course, it can also be placed elsewhere.
How many tin cans/plastic bottles can be compacted in the PackPRESS 100 device at the same time?
PackPRESS 100 is intended for continuous compaction, namely one item at a time.
In this way compacted items of waste are not stuck together, and are easier to sort, while also providing a higher compacting efficiency.
ADVANTAGES

ALWAYS AT HAND
Because the device is always at hand, you can compact the waste the moment it is produced.

EASY TO USE
Open, load and start … after the compacting process, the waste is ejected into the basket underneath the device.

SPACE SAVING
With regular use of the press, you will save space and time.
DIMENSIONS (W x H x D)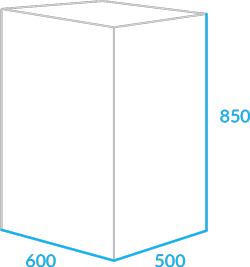 PackPRESS 100
Basket volume (30 L)