HIDEOUT

HIDE YOUR CONTAINERS
UNDERGROUND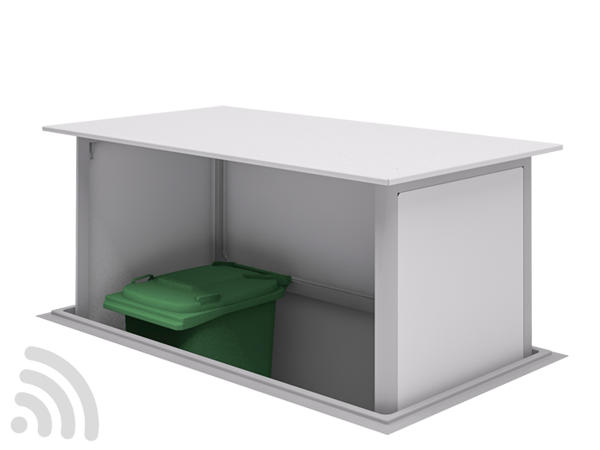 Underground containers with HideOUT – Safely hidden from view
With the HideOUT enclosure your waste containers will be hidden in the ground and available by simply pressing a button.
The submersible waste enclosure provides optimum use of external surfaces and at the same time protects containers and prevents the spread of unpleasant smells.
HideOUT is not only designed for containers
It may be used also as a submersible bicycle shed, storage unit, etc. Things stored in it are quickly accessible and under your control.
The HideOUT is controlled via a remote control, and also allows connections with different smart home systems.
| | |
| --- | --- |
| | HideOUT |
| Material of side | box and roof: aluminium, powder coated; wood bottom |
| Internal dimensions | 169 x 132 x 74cm (WxHxD) |
| Material of the lifting part | steel |
| Material of the fitted container | fibreglass, i.e. Glass Fibre Reinforced Plastic (GFRP) |
| Drive | Electric motor. 230V/1500W or 380V/750W |
| Power connection | Only qualified person |
| Lifting mechanism | Electric motor + pulleys system |
| Control of opening | Standard wireless control unit (2 pcs) |
| Opening - alternative | smart house systems, socket with a key, etc. |
| installation aperture required | at least 204 x 180 x 132cm (WxHxD) |
What are the main advantages of the submersible HideOUT enclosure/storage unit?
The submersible enclosure hides waste in the ground, thus protecting it from direct sunlight, rain, etc. At the same time, it allows for more space around the house, since you can walk on its lid (but not drive), and at the same time hides waste containers from view and prevents unpleasant smells from spreading.
Who is the submersible HideOUT enclosure/storage unit designed for?
Submersible waste containers introduce a new approach to waste disposal and are therefore designed mainly for users attracted by innovations and new trends.
Because it is electronically controlled, the HideOUT can be programmed and connected to existing smart home systems.
What can we store in the submersible HideOUT enclosure/storage unit?
The HideOUT was basically designed for storing waste containers, but also works well as an underground storage unit for other things, e.g. bicycles and other sports accessories. The maximum load capacity is limited to 200kg.
How do we operate the HideOUT?
The basic model is controlled by remote control (two items provided).
In addition, its electronic system allows programming and connecting to the external control; e.g. smart home systems.
ADVANTAGES
MORE SPACE
It is possible to walk on the HideOUT, so it also provides you with more space.
SAFE CLOSING
Several sensors take care of safe and reliable closing.
CONTROL
Open HideOUT with a remote control, switch or smart house. Choose yourself.
DIMENSIONS (W x H x D)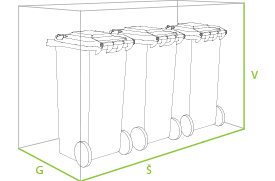 HideOUT internal dimensions = 169 x 132 x 74cm
Suitable for max.
2x 240L and 1x 120L waste container